Social Media scheduling tools can be a huge help and time saver when it comes to lining up your posts and campaigns. With billions using social media, businesses everywhere look to use it to connect and engage with audiences and convert them into clients.
Hootsuite
Hootsuite is one of the original brands in the Social Media scheduling space, founded in 2008 with a reported 16 million users across the world.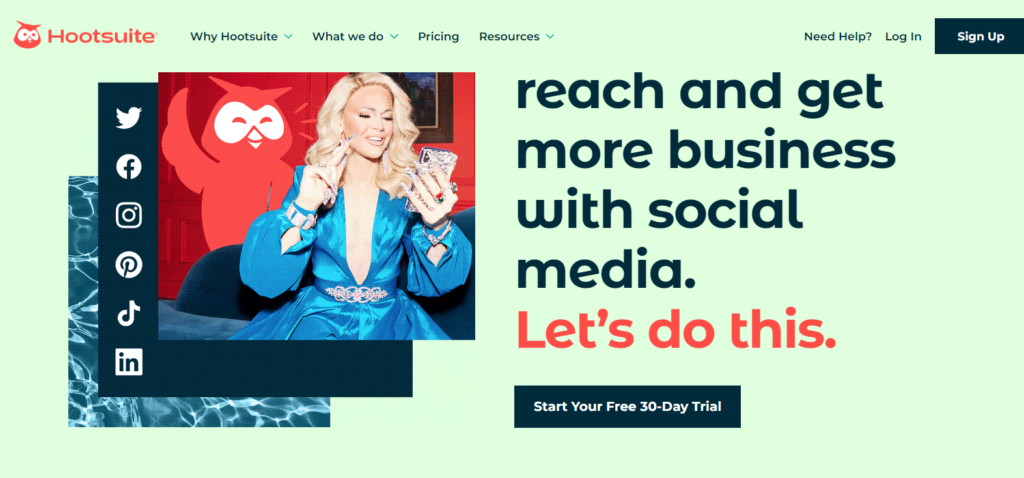 At the time of writing Hootsuite supports scheduling on Facebook (profiles, pages and groups), Twitter, Instagram (Business pages and personal profiles), LinkedIn (Business pages and personal), YouTube channels, TikTok and Pinterest.
Although there is a free, and limited level, Hootsuite is fairly pricey with a range from £39– £569 and beyond. There is a 30 day trial for paid plans that will give you enough time to try it out.
The Plans
Professional.
---
1 User
10 Social Media Profiles
$500 Ad spent limit
Team
---
3 Users
20 Profiles
Team assignments
Analytics
Access to Hootsuite certifications
Business
---
5 Social Profiles
35 Social Profiles
Dedicated training
Access to Premium apps
Ability to spend up $5k/month on ad spend.
Enterprise
---
Tailor made package for larger business
Free allows a single user three social accounts with the ability to schedule five messages in advance on two social accounts.
Pros and Cons
Pros
1. The social streams feature gives you the ability to monitor and engage with your audience through the dashboard.
2. You can connect with over 150 apps in the Hootsuite App Discovery store to ramp up the power of your social scheduling.
3. On paid plans you can get analytics that allow you to track results, engagement and benchmarks with customised reporting.
Cons
1. Hootsuite has some nice features but if you want customised reporting, or particular analytics you need to be on a paid plan
2. The lower tier packages can be limiting and recent price hikes have annoyed existing customers. The free plan has reduced monthly scheduled posts from 30 to five.
3. Customer service has known to be slow unless you are on a paid plan.
As mentioned, a 30 day free trial is on offer for all plans in order to give Hootsuite a road test.
Crowdfire
Crowdfire is a social media management tool that has evolved away from its early days as an unfollow tool called 'JustUnfollow'. There are plenty of features to keep even a seasoned social guru happy with integrations to Facebook, Twitter, Instagram, LinkedIn and Pinterest.

With Crowdfire you get scheduling, as you would expect as well as content curation (called Article recommendations), analytics with a report builder and social mentions. Plus you can create posts from your online ecommerce stores and blogs with one click.
Pricing Plans detail
FREE
---
3 accounts
Schedule 10 posts,
Access unlimited content curation
Plus
---
5 accounts
Schedule up to 100 posts
Chrome extension to share posts, video posts support
Connect up to 5 RSS feeds
Premium
---
10 accounts
Schedule up to 100 posts
Track mentions for Facebook and Twitter
Bulk schedule with calendar view
Add/manage one company profile
VIP
---
All of the lower tiers with 25 accounts
schedule up to 800 posts
Pros and Cons
Pros:
Very affordable entry-level tier compared to some other platforms.
Cons:
Steep learning curve
Conclusion
Perfect for small businesses and individuals who want to move beyond random posting and the larger packages great for medium-large businesses and agencies.
Sendible
Sendible was launched in the middle of 2008. Since then, it has held an integrative approach by combining social media management features for blogs and also including tools along with many platforms.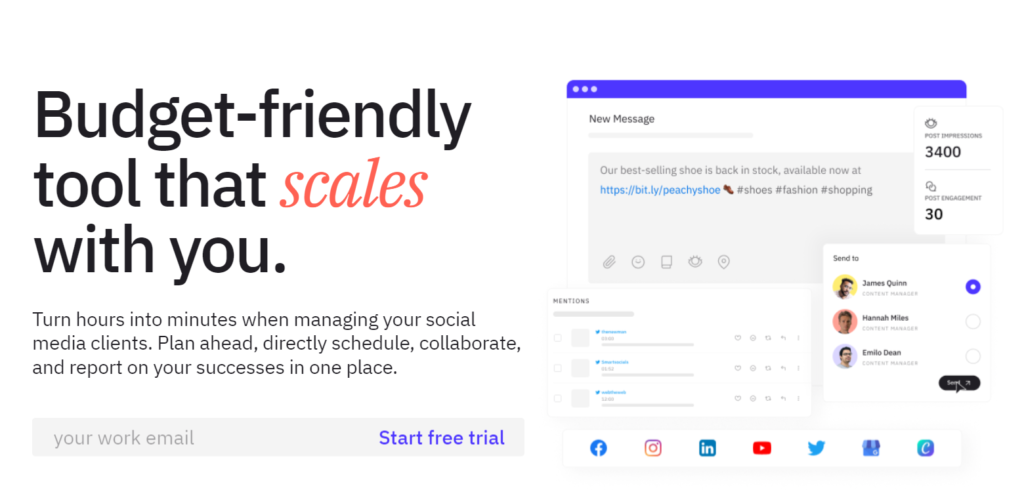 As of now, Sendible supports Facebook, Instagram, Twitter, LinkedIn, YouTube, and Google My Business. It also offers blogging support for WordPress, Tumblr, Medium, and Blogger.
Although Sendible offers a trial period of 14 days initially for all its four packages, it is charged afterwards. The range is between $25 to $399/month from the basic to the premium bundle. Each package builds upon the features of the previous one by upgrading the capacity of the posts.
Pricing Plan
Creator
---
1 user
6 social profiles
It includes unlimited scheduled posts with up to 10 queues.
Traction
---
4 users
24 social profiles
30 queues
Assign and publish posts
Scale
---
7 users
49 Social Profiles
up to 70 queues
Save to content libraries
Custom team workflows
bit.ly branded links
Up to 14 custom analytic reports.
Custom
---
Manage unlimited brands
White labelling
SSO, client permissions and merge tags
Dedicated client manager.
Pros and Cons
Pros
1. Sendible allows you to draft posts and publish them to a WordPress account that you're hosting yourself.
2. It comes with an intelligent suggesting feature which can suggest ideas or designs that generate more likes and shares.
3. The pre-built report templates make it easier to instantly share results with clients.
4. Allows automatic RSS posting.
5. It has a sentiment analysis feature so you can design better posts that resonate with the audience.
Cons
1.Users have reported that the social listening feature can be slow when it comes to gathering brand mentions from various platforms.
2. The keyword analysis feature only takes Twitter into consideration and leaves out the rest.
As mentioned, a 14-day trial can help you determine the most suitable package. Each one is designed to suit independent bloggers, small agencies, growing agencies, and even businesses with presences on hundreds of social media platforms.
ContentCal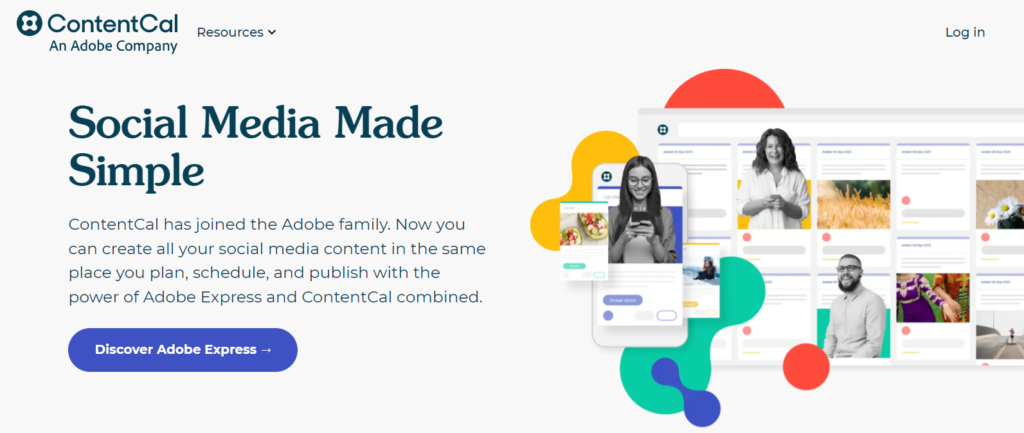 ContentCal first emerged in 2014 as a social media marketing agency. It became an independent SaaS (Software as a Service) product just two years afterwards. Now an Adobe company, ContentCal is known as Content Scheduler within Adobe Express.
It best integrates with Twitter, LinkedIn and Facebook pages. You can also post to Instagram directly with ContentCal, a feature that some social media management tools miss out on.
Before joining the Adobe group, it featured three packages ranging between $37 to $X (a custom offer that generates the price according to your needs). But now the packages have toned down to merely one – the premium bundle of Adobe Express.
Pricing Plan
Note that the free package of Adobe Express doesn't include ContentCal as it's only for creating content.
Essential
---
1 or 2 users and 1 or 2 calendars
5 connections per Calendar
Instagram Grid view
Analytics with PDF export
Expert
---
3 users and 3 calendars
10 connections per calendar
Dedicated account manager
Advanced approvals
Custom
---
Custom amount of calendars and users
15 connections per calendar
Unlimited personalised training.
Pros and Cons
Pros
The tool comes with easy-to-follow tutorial videos (also a ContentCal skills diploma separately), which can be a great learning resource for entry-level social media marketers.
You can clearly read the image and caption on the calendar because of its large format and organized aesthetics in the form of colour coding.
It has an in-built feature for automated video and image compression.
You can export analytical information in CSV format.
The built-in collaboration tool is ideal for freelancers who might upsize their teams in the future.
You can create templates, draft content, and store them in one place within the 'Content Hub' section of this tool.
ContentCal has become a part of the Adobe group, so you can also synchronize your work in Adobe Express with the tool.
Cons
You need to have an Adobe Express membership.
Some users find it awkward to have to pay more to get advanced customer support – the tool has a tiered service in this regard.
As said earlier, ContentCal is now a scheduler within Adobe Express. So if you're an Adobe Express user, this social media management tool is best to keep your designing, scheduling and publishing in one place.
Social Pilot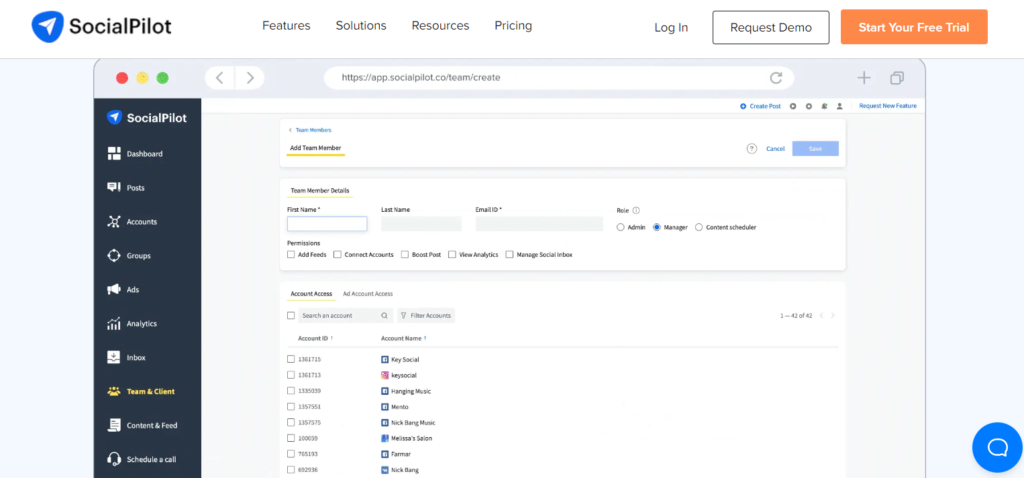 Social Pilot, founded in 2014, provides features similar to Hootsuite but at a more reasonable price. It started gaining popularity in 2018 because of its user-friendly interface and multiple platform management.
This tool covers all major social media platforms such as Twitter, Facebook, Tumblr, Google My Business, Instagram, Pinterest, and LinkedIn.
Although there's no free plan, Social Pilot provides users with a 14-day trial and a basic package starting from $30 / £26 per month. This applies to all of its four packages, designed according to the needs of small to large-scale companies and individual entrepreneurs.
Pricing Plans
Note that the basic (professional package) doesn't include Instagram image tagging, social inbox feature, white label reports, pdf reports, or schedule reports, among other features. See here for a detailed list of features and a comparison between the following packages.
Professional
---
Covers 1 user and 10 social profiles
Designed for individual needs with zero team members
Small Team
---
Covers 3 users and 20 social profiles
Unlimited clients
Good client management tool ar
Agency
---
Maximum of 6 users and 30 social profiles
Includes unlimited clients and white label
White Label
---
50 Social Media Accounts
Unlimited Users and clients
Unlimited team management
Pros and Cons
Pros
All packages (except the professional one) have the 'Social Inbox' feature which can gather messages and comments from multiple Facebook pages.
It separates the stream of every social media platform, making navigation simple and fast.
Their posting module has a content curation feature. It allows you to perform keyword research and post, schedule, or queue relevant posts then and there.
Has a social media calendar that you can fill in with drag-and-drop.
The only social media management tool that works with VK, a famous social media platform for Russian speakers.
Cons
Doesn't offer direct publishing with Instagram (from within the tool).
It also doesn't provide API integration with Instagram, which means there's no way to import analytical data or view post histories unless you use the tool itself to schedule the posts and publish them.
Remember, the 14-day trial period along with this comparison of package features can help you decide which deal works for you.